Women Win Honored with Global Impact Award
Grassroots organizations, brands, sports teams, leagues and athletes gathered at the One World Trade Centre in New York City to celebrate the courageous, creative and impactful work being done around the world using sport to promote and achieve the UN Sustainable Development Goals (SDG's).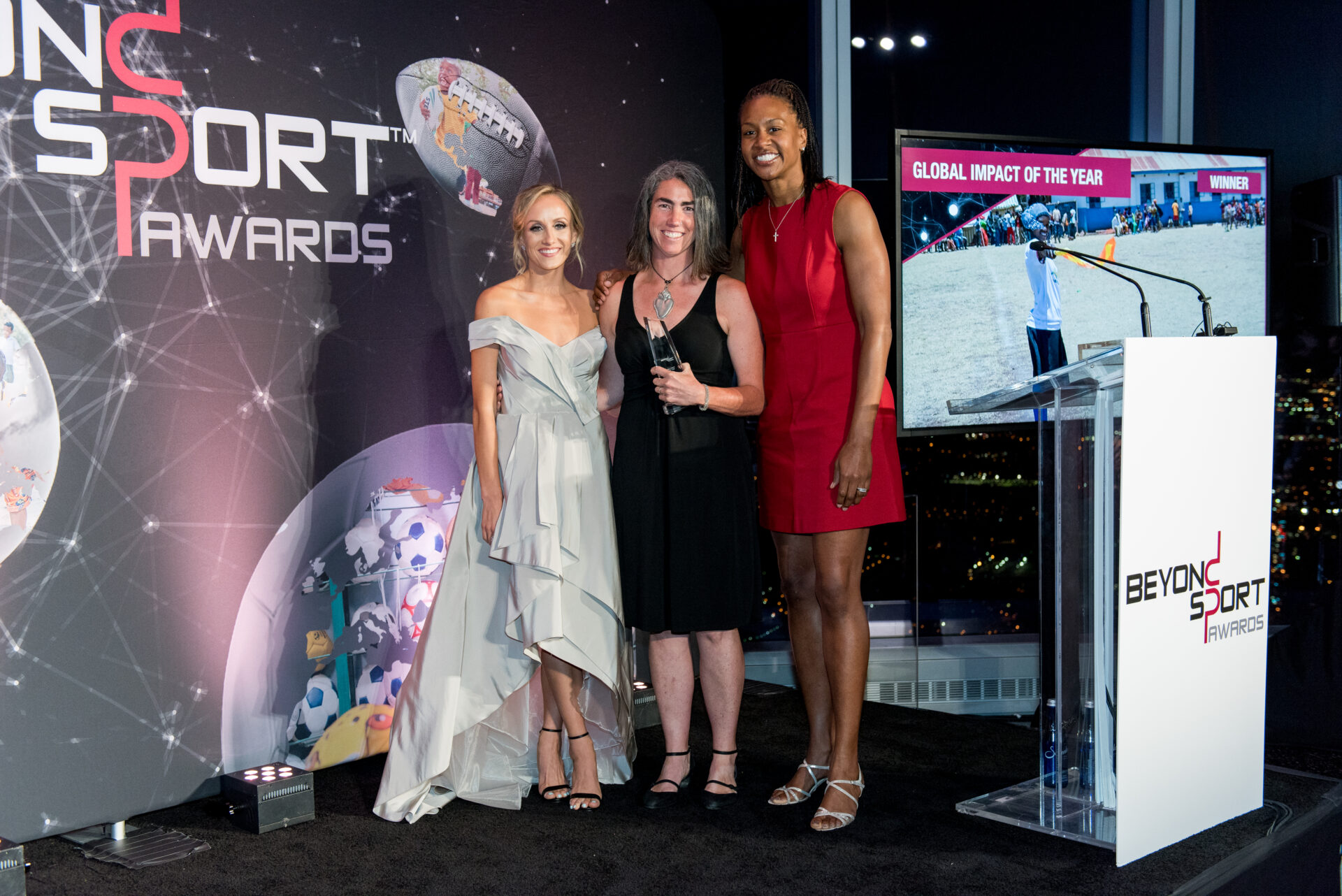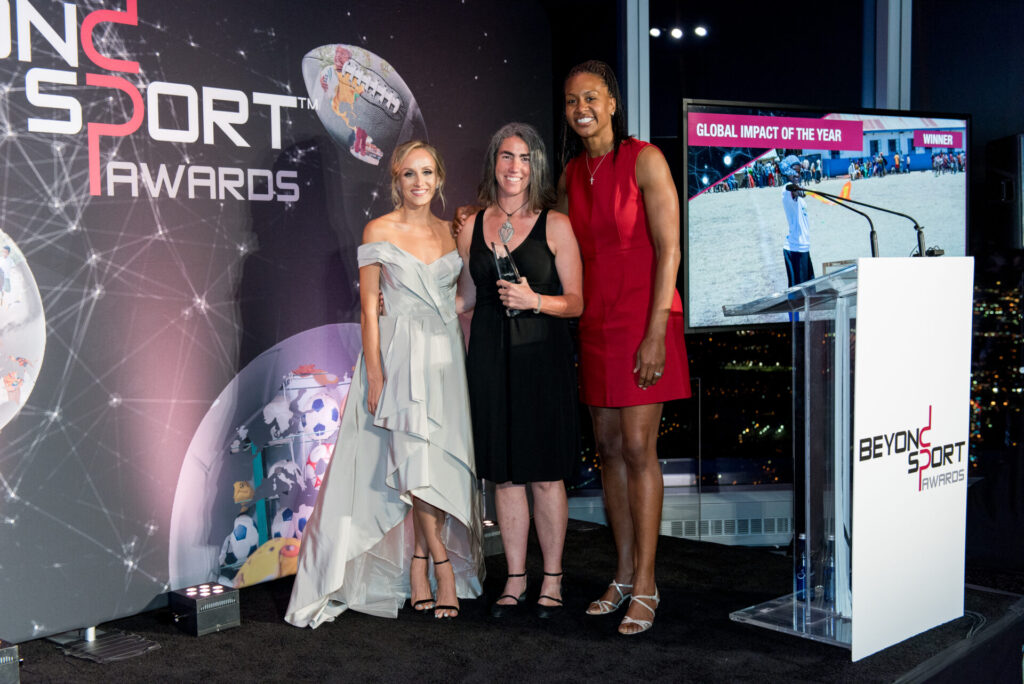 Women Win is proud to announce that we are recipients of the 2017 Global Impact Award given by Beyond Sport. This recognition from our peers in the industry comes after 10 years of work towards our mission of empowering girls to achieve their rights through sport. During this time, and with the support of our partners, Women Win have impacted the lives of over 2.24 million adolescent girls in over 100 countries. Our strategy is based on using sport and play to help girls thrive as they face the most pressing issues of adolescence, including accessing sexual and reproductive health and rights, addressing gender-based violence and achieving economic empowerment. We were shortlisted with two powerful actors in our industry – Skatestan and Coaches Across Continents.
From 250 entries spanning 70 countries, 37 organizations made the shortlist for the ninth annual Beyond Sport Awards with the 13 outstanding winners all epitomizing how sport can help tackle some of the most pressing social issues in the world today. As the global force for sustainable social change through sport, Beyond Sport overhauled the Awards this year to align with the UN SDG's. The move reflects Beyond Sport's belief that that using sport is an effective and game-changing approach to addressing extreme poverty, inequality and climate change.
Those shortlisted were joined by a stellar line up of presenters to include Donna De Verona (Olympic Gold Medallist), Nastia Liukin (Multi Olympic Gold Medallist), WWE superstars Nia Jaz and Sami Zayn and 4-time Heavyweight Champion of the World, Evander Holyfield.
The awards prominently recognized the work of other organizations and individuals who are having a powerful impact on gender inequality, including two of our Programme Partners. Girl Determined were recognized for their Colorful Girls Volleyball Circles, collecting the Sport for Equality Award. Their Myanmar-based program brings together adolescent girls from diverse ethnic and religious backgrounds to grow their access to education, health knowledge, participation in decision-making and personal development all through Volleyball. Meanwhile,  ChildFund Australia received the UNICEF Safeguarding Children in Sport Award for the Pass It Back initiative in Laos, the Philippines and Vietnam – which was designed and implemented in partnership with Women Win and World Rugby.
Hajar Abulfazl received the Courageous Use of Sport Award. An Afghan footballer, former captain of the women's national team and Youth Delegate, United Nations, Abulfazl's advocacy work spans female sports empowerment from the grassroots to elite levels, engaging with numerous sports federation and government officials as well as President Ghani.
Bilqis Abdul-Qaadir, a highly decorated college basketball player, instructor and activist, won the Leadership in Sport Award. Her goal was to continue playing professionally in Europe, but she was denied the opportunity to pursue that ambition due to the International Basketball Federation (FIBA) rule prohibiting head gear larger than five inches. Unwilling to stray in her beliefs, she chose faith over basketball and became an advocate working alongside other Muslim players. In May 2017, thanks to Abdul-Qaadir's tenacity and leadership, FIBA overturned the hijab ban. Whilst Abdul-Qaadir has not decided if she will revive her dream to play professionally, she is committed to continue advocating for the human right to sport.
Thanks to Beyond Sport and all the committed people who contribute to our mission of empowering girls through sport and play. This work is truly a team effort. This award belongs to all of us – staff, boards, supporters, and especially our partners.